Submitted by

Jace Cook

on Wed, 08/02/2023 - 11:50am
Are you ready for Aspen Discovery?
Your patrons will love being able to search for and discover the items they need more quickly. SHARE staff is working with the team at ByWater Solutions to develop a smooth and efficient implementation process scheduled to begin this fall! To help you feel more prepared, we've added more questions to the FAQ below. Be on the lookout for more detailed information in your inbox in the coming weeks.
Maximize your users' experience!
For the past year, SHARE committees have been reviewing new technologies, including something called a "discovery layer," which would integrate with Polaris and replace our existing Online Public Access Catalog (OPAC), PowerPAC. After careful review, the SHARE Circulation & Resource Sharing Committee determined that Aspen Discovery, from ByWater Solutions, would be the best fit for our member libraries that want to add this new technology.
Reservations for Aspen are closed at this time. If you are interested, please Cassandra Thompson for further information and options. 
Aspen Discovery offers a much better user experience, and offers some additional features, including:
More relevant search results Integrated e-resources, like:
EBSCO
cloudLibrary
hoopla
OverDrive
Grouped Works Integrated events Better discovery — one search for all library resources!
Browse categories
Collection spotlights
Featured resources
Illinois Digital Archives
Website indexing
Readers' advisory content, such as:
Staff lists
User ratings, reviews, and sharing
Movie ratings
Series information
Readalikes "While You Wait"
The New York Times bestsellers lists
And other additional features
Modern searching, which includes:

Autocorrect
Similar searches
Spelling suggestions

Ten different languages
Accelerated Reader levels
Novelist integration (if subscribed)
Author biography (Wikipedia)
Saved searches (lists, RSS, email, Excel)
Aspen Marketing Materials
To help your patrons and library staff with the transition to Aspen, we have prepared marketing materials for your use! Below is a PDF of each resource and a link to each Canva template that you can customize with your library's logo and contact information. For questions or concerns regarding marketing materials for Aspen, please contact Jace Cook. 
Aspen Discovery for Public Libraries
Aspen Discovery for Schools
Aspen Discovery for Academics
Have more questions about Aspen Discovery?
Will patrons need to be logged in to see all of the custom integrations? Each library has a unique URL to their OPAC. Patrons will see Aspen if they use that unique URL, when they are at your library, or when they are logged in, if they are searching from a different library.
Will patrons still need to go out to cloudLibrary, hoopla, or Overdrive to place holds or check out items? No! The patron will be able to place holds and check out directly through Aspen, using Polaris API, which connects to those third-party vendors. Those items will also show in their online account in Aspen.
If my library doesn't subscribe to cloudLibrary, can we exclude that vendor from our results? Yes! We would just exclude that API on your discovery.
Why do we need a new discovery layer? Aspen Discovery provides a better discoverability of library resources and a better user experience. There are two main ways that Aspen Discovery provides a better discovery system, helping to alleviate existing pain points within our consortial environment. Learn more about relevant search results and integrated e-resources.
Is the price for implementation or an annual fee? The price will be an annual fee in addition to your SHARE membership fee.
How did SHARE decide on Aspen? For over a year, the SHARE E-Resources Committee, SHARE Circulation & Resource Sharing Committee, SHARE Finance & Policy Committee, and SHARE Executive Council have been reviewing the available options and have determined that Aspen Discovery is the best fit for our members.
Will this integrate with SHARE Mobile Library App? This feature is coming soon!
What are Placards? Placards are like strategic advertisements that can help you promote resources, events, lists, and more! When users perform catalog searches that match keywords or phrases you specify, your placard will appear above search results.
​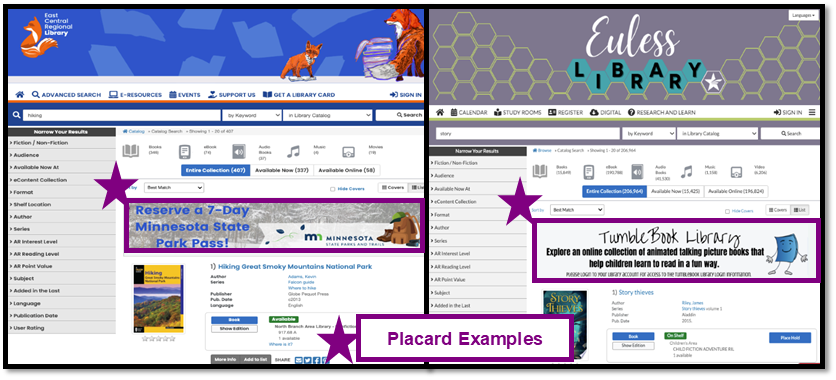 What is Masquerade Mode? This optional setting allows staff with the Masquerade permissions to act as other users and see their account information within Aspen (with or without patron reading history). This can be useful for staff who need to assist patrons over the phone, such as when walking them through how to access information in their account or performing actions as the patron. When using Masquerade, you will never have to ask a patron for their PIN/password - the only information you need is their library card number.
What are Facets? Facets are scoping options that include available dates, branches, collections, and many more.
What is Side Loaded E-Content (Side Loads)? Aspen Discover supports other vendors via Side Loads, such as Chilton's, Gale, Kanopy, and Tumblebooks. Review the Aspen Discovery Help Center for more examples. 
What are Grouped Works? Grouped Works are the way that Aspen Discovery sorts information, which combines title and author into one entry, while still utilizing existing MARC data for all records. If you want the theory behind this search method, Aspen Discovery uses The FRBR (Functional Requirements for Bibliographic Records) Model, or FRBRization. For more detailed examples on what that looks like in Aspen versus our current PowerPAC system, please review relevant search results
In our existing discovery layer, PowerPAC, the search results come from a "last in, first out" model. That means that the last item catalogued is usually the first entry, which has been a pain point for us for a long time!
Aspen Discovery sorts by both best match/relevancy and something called Grouped Works, which combines the same title and author. Here is what you get when you search The Hobbit using Aspen Discovery. (These results were borrowed from the MAIN Library Alliance Consortium in New Jersey that also uses Polaris.)
You can see result number 1 is The Hobbit with multiple editions and formats included within the results. The search is a better user experience!
Let's try that same search and compare using our existing PowerPAC Discovery. Well-loved books can be really challenging to find.
When you search for The Hobbit, there are 368 results. Without filtering, and outside of movie guides, the first book result is entry 11 on page 2, a 1973 edition of The Hobbit and The Lord of the Rings (4 copies). That is not really the greatest option, so looking further, the next options are on page 3, result number 29, a 1994 edition (3 copies) and number 30, a 1997 edition (4 copies). If a patron ONLY wanted The Hobbit, the first book is a 1966 edition, with that result on page 4, result number 36 (23 or 26 available copies). If you wanted to find a more recent edition, you would need to scope the results or keep searching.
This can be very confusing to a patron! They have to wade through multiple DVDs, annotated copies, critical analysis, and visual guides about the movie's special effects. Not relevant!
Another example of why this is so problematic for our consortium is a recent example, when backlist titles become newly popular (Colleen Hoover's It Ends With Us for example). The patron might place a hold on an edition that has limited copies. Instead of selecting the result with 199 copies, they might place a hold on the record that only has 3 copies with zero availability.