Submitted by

Cassandra Thompson

on Wed, 07/21/2021 - 12:32pm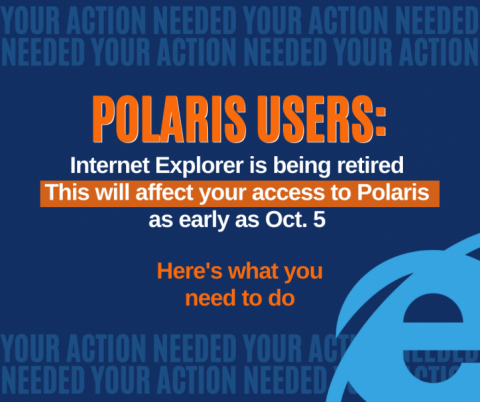 Internet Explorer is being retired and it will affect your access to Polaris.
For barcoding libraries, SHARE recommends making the switch to Leap.
Why choose Leap? Leap is EASY to use! It also has several technical benefits. First, it uses less of your library's bandwidth, so you may notice it running quicker than the original staff client. Second, it uses less resources for SHARE servers. Lastly, Polaris views Leap as their next-generation product. You will start to see more features in Leap than in the staff client.  
If you would like training on Leap, please go to the SHARE Training Portal for a series of quick videos. You can log on with your Polaris username and password to access this training.
Cataloging/Acquisitions Libraries: you may have heard that Leap does not have the full functionality of the staff client. That is true right now, but Polaris is actively developing Leap for cataloging and acquisitions, which is anticipated by the end of the year. It may be a good time to start using Leap for circulation, to get ready for the transition.
Polaris is not retiring the existing staff client. If your library would prefer to use the staff client, you need to change the way you are accessing Polaris. After October, the existing remote access may not work.
Here are written instructions, including screen shots of the steps to update your remote access.
As always, SHARE staff are available for assistance. Please contact Dena Porter with any questions.