Submitted by

Cassandra Thompson

on Mon, 09/21/2020 - 3:47pm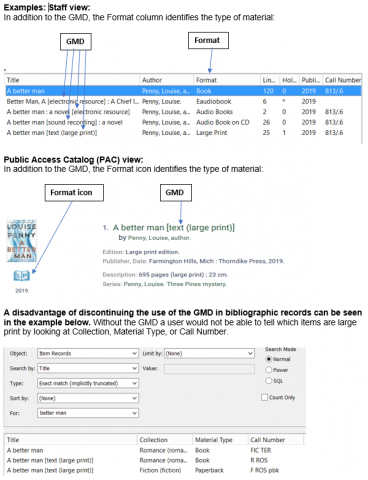 On behalf of the SHARE Bibliographic and Cataloging Standards Committee, a short survey is being conducted to gather input on whether the General Material Designation (GMD) should continue to be used in Polaris bibliographic records.
Everyone is encouraged to take the survey—we're looking for input from both cataloging and circulation staff. Click on this link to take the survey: [link]. The survey will be available through [date].
If you are not familiar with the GMD, here's some background:
The GMD is a subfield in the title field of a bibliographic record that identifies the broad category of material for non-print formats, kits, large print books, and braille books. It is added to bibliographic records in Polaris by catalogers when records are imported into the database.
Use of the GMD is not required under current cataloging rules but is added as a local practice. It is sometimes added incorrectly or omitted erroneously. In cases of long titles, the GMD can sometimes be difficult to see in a results list in the staff client view.
The GMD appears in brackets in the title, i.e., [videorecording] to serve as a visual cue to identify formats in a title list.  
In addition to the GMD, Polaris identifies category of material by the Format column on the staff side, and the Format icon in the Public Access Catalog (PAC), also determined by coding in the bibliographic record. While the GMD indicates only a broad category of material, Format is often more specific.
The survey seeks to determine if circulation and cataloging staff in SHARE libraries consider the GMD useful for staff and patrons and if it should be continued to be added to bibliographic records in Polaris.
Note: if it's decided to retain GMDs, they will be retained for every applicable format, and the terms currently listed in the SHARE cataloging standard Use of General Material Designation will be used.
Click here to share your opinion. Feel free to add any additional remarks in the comment box. The survey will be available through Wednesday, October 7, 2020. 
The results of the survey will be reviewed at the next meeting of the Bibliographic and Cataloging Standards Committee on Friday, October 9, 2020. Everyone is welcome to attend the meeting as an observer, and there will be time for public comment. Please register in L2 for the meeting.