2017/2018 Annual Agreement forms
The good news is--I received 295 signed SHARE Annual Agreement forms by April 1. The bad news is--I'm still 191 forms short! During this process, I discovered that I probably shouldn't try to save postage and paper by printing on the front and back of paper, since many of you did not see the side of the SHARE Annual Agreement form that you would have marked when you plan to pay your fees (annually, quarterly, or monthly) and signed the agreement. The other good news is that there is plenty of time for me to let you know where you stand with regard to that agreement before invoices are sent in July.
SHARE Executive Council
As you probably all know, the SHARE Executive Council members' terms are for two years, with the option of running for a second term, and that the terms run from July 1 to June 30. With that said, there are a number of seats that are open for the 2017/2018 year:
Public Library Representative for small libraries (population under 10,000), though Susan McKinney has indicated that she would be willing to serve a second term
School Library Representative
School Library Representative (yes, two of our school representatives are retiring!)
Academic Library Representative, though Spencer Brayton is willing to run for a second term
Bibliographic & Cataloging Standards Committee chair—elected by the committee
eResource Committee chair—elected by the committee; Scott Drone-Silvers is willing to serve a second term
If you have any interest in filling one of these positions, please contact Chris Dawdy (cdawdy@illinoisheartland.org or 618-656-3216 ex 443). You may be interested to know that there is no longer much travel time involved. Typically, this committee meets using Zoom, so that no one has to drive anywhere! And this is what a typical committee meeting looks like: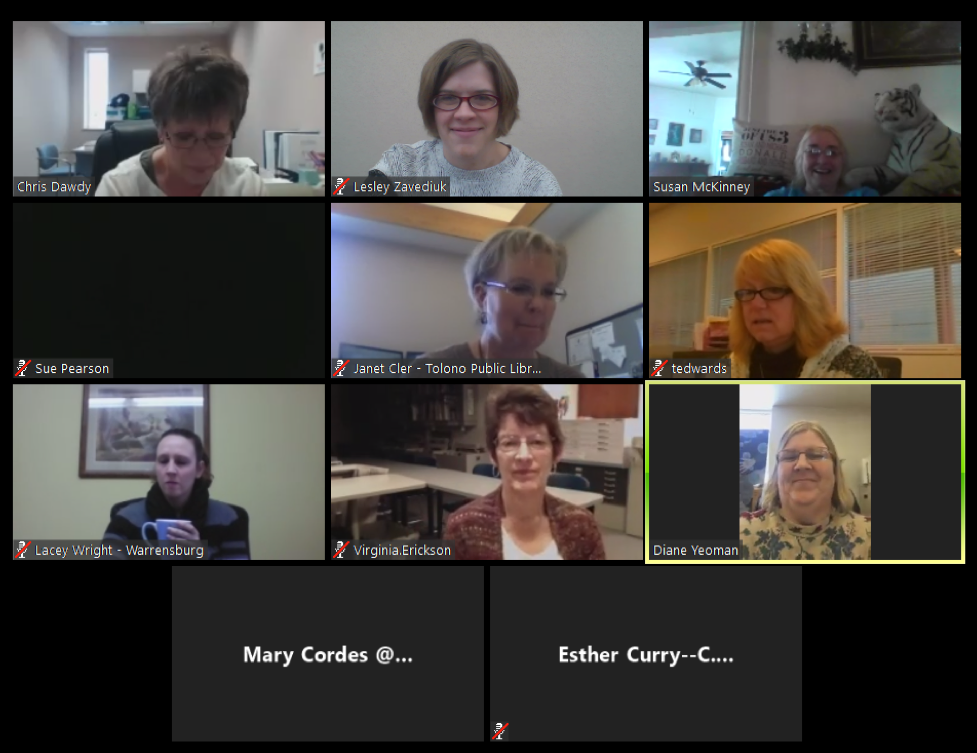 Funding for Libraries
IHLS staff have been attending a number of free (or very cheap) workshops in the last few months, learning as much as we can about advocacy, public relations, communications, and so on, for libraries. I attended one recently that I think you will all want to investigate! The workshop was presented at the Central Illinois Nonprofit Resource Center at the University of Illinois Springfield, and was a demonstration of the Foundation Center's database of grants, grantmakers, and other funding sources. You may or may not be aware that organizations can purchase a subscription to gain access to and use the Foundation Center's database.
The most exciting portion of the workshop for me was getting a link to the Foundation Center's new Visualizing Funding for Libraries database, and I'm going to share it with all of you! There is no cost to use this database. All you need is a link.
WebJunction hosted a webinar about how to use this new database. This webinar introduces libraries to the dynamic and freely available data-visualization tool, Visualizing Funding for Libraries, which helps identify funding opportunities for libraries at national, state, and local levels.
While I'm providing links, this is one for the Central Illinois Nonprofit Resource Center. They provide a wealth of information and workshops useful to nonprofits of all types.
Dates to take note of
Please note that when we encourage you to sign up for an event in L2—whether it's a training session, a chat, or a meeting—there's a reason! For public libraries, when you have to determine your CE hours for the IPLAR, if you've signed up for all of the events you've attended, they will show up on your CE report. The same is true for all other library types—you just have other reasons for using that information.
| | | | |
| --- | --- | --- | --- |
| 4/5/17 | 9:30 | Dewey Decimal Classification | Marion Carnegie Library |
| 4/5/17 | 1:00 | IHLS Directors' Chat | https://webjunctionillinois.adobeconnect.com/directors?launcher=false |
| 4/11/17 | 9:00 | SHARE Catalogers Training Session | |
| 4/12/17 | 9:30 | SWAYS meeting | Belleville Public Library |
| 4/12/17 | 1:00 | Adult Services Forum | Barclay Public Library |
| 4/13/17 | 9:30 | Dewey Decimal Classification | IHLS Edwardsville |
| 4/13/17 | 9:30 | Library of Congress Subject Headings | IHLS Champaign |
| 4/13/17 | 10:00 | SHARE Circulation & Resource Sharing Committee meeting | |
| 4/13/17 | Roughly 10 pm | Polaris Upgrade | |
| 4/18/17 | 9:30 | IHLS Member Day | Thelma Keller Convention Center, Effingham |
| 4/20/17 | 9:30 | Introduction to Authority Records | Forsyth Public Library |
| 4/25/17 | 1:00 | SHARE Circulation Forum | |
| 4/25/17 | 5:00 | IHLS Board Meeting | |
| 4/26/17 | 9:00 | Barcoding I—Searching & Matching | IHLS Edwardsville |
| 4/26/17 | 1:00 | Barcoding II—Item Records | IHLS Edwardsville |
| 4/27/17 | 9:30 | Cooperative Collection Development Meeting | Central Public Library District |
| 4/27/17 | 1:00 | Metro-East Public Library Management Meeting | Mascoutah Public Library |
Be sure to sign up for events of interest to you on L2!